Have you ever wondered what the colored cap meant on Schaeffer Grease tubes?
*2015 New! Schaeffer introduced a new cap color scheme as follows:
Black - NLGI 00, White - NLGI 0, Red - NLGI #1 ,Yellow - NLGI #2, Clear - NGLI #3
Schaeffer greases come in different thicknesses for various kinds of applications. The caps are color coded as follows:
#00 Black
#0 White
#1 Red
#2 Yellow
#3 Clear
Take a look at the photo which shows the various colored Schaeffer grease caps.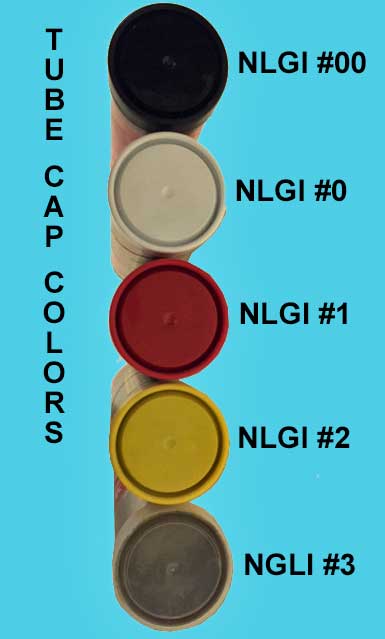 Did you know stores.buy1oils.com has a complete selection of Schaeffer grease and ships it daily across the United States as well as worldwide. The following is a partial list of the grease we carry:
#197 Moly Pure Synthetic NLGI #2
#206 HI TEMP COTTON PICKER GREASE #00, #0 (Bentone Base)
#221 MOLY ULTRA NLGI #1, #2 (Contains extra Moly) Aluminum complex base Waterproof / Hi Heat Good up to 350° F
#2282 SUPER HV RED NLGI #2 Only ISO 460 Base Oil, Para-synthetic, Extreme Presure Grease, Aluminium Complex, synthesized Moly, Red / Hi-Heat up to 350°
#229 ULTRA RED SUPREM NLGI #1, #2 Par-synthetic, Extreme Pressure Grease, Waterproof / Hi-Heat up to 350°
#229PGL PIVOT GEAR LUBE
#238 ULTRA SUPREME NLGI #1, #2 and #3 Meets Cat's 5% Moly Grease Sec., Extra Tacky / Waterproof ? Hi-Heat Good up to 350°