All Schaeffer's Greases are premium, heavy-duty, quality greases.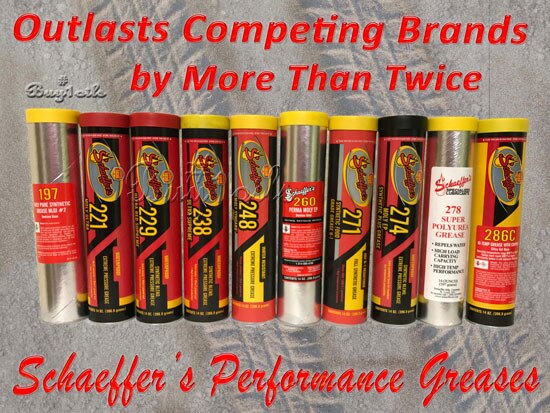 With 19 different greases in multiple NLGI numbers (thicknesses), that is a lot of different choices! So, which one is right for you? Read on for some basics on the different Schaeffer greases to help you narrow down your search. Each Schaeffer grease has different attributes. Grease is not a one size fits all proposition.
Before changing to a different type of grease, please confirm that it is compatible with your existing grease or completely remove all of the previous grease. Mixing incompatible greases can cause failures!
If you're looking for the highest quality grease available and the best selection of synthetic, para-synthetic, bentone base, and waterproof greases that will satisfy multiple applications, then you've found the best source online. stores.buy1oils.com carries the full line of all Schaeffer's greases.
Here is a quick breakdown to help you choose:
Bentone, water-resistant, up to 600 degrees: 197, 206, 248 and 260
Aluminum complex, waterproof, up to 350 degrees: 219, 221, 2282, 228PGL, 229, 238 and 274
Extra Moly: 238, 260 and 274M2
Ultra Supreme #238 in NLGI #1, NLGI #2, or NLGI #3 is Schaeffer's Cat spec. 5% moly, waterproof grease recommended for heavy equipment. NLGI #3 can also be used as a chisel paste.
Perma Moly #260 in NLGI #1, NLGI #2, or NLGI #3 is a bentone base grease with extra moly for added protection in a heavily loaded application. This water-resistant grease works in temperatures up to 600F.
EP Synthetic Plus Grease Extra Moly #274M2 is the extra moly version of the #274. It comes in NLGI #2.
Polyurea for electric motors: 278
Polyurea Grease #278 in NLGI #2 is the grease recommended for sealed for life bearings, long-life applications, and electric motors.
Extreme Applications: 286C and 216
Hi-Temp Grease with Copper #286C is designed for extreme temperatures. It doesn't start working until 600F and continues to work up to 1200F. It continues working even when the base oils are burned off. This grease contains moly, graphite, and copper.
Synforce Strike #216 is the newest addition to the Schaeffer Line. It is specifically designed for use in hydraulic hammer, breaker, and chisel applications. This extreme pressure grease contains moly, graphite, and copper.
Biodegradable: 529
Food Grade H-1: 195, 271 and 272
1.19.22